Certificate of Eco product

The manufacturer has received the OEKO-TEX® Standard 100 certificate – which is a symbol of the guarantee of testing textiles for the presence of harmful substances. It is published by the independent research institute OEKO-TEX®, which has professional laboratories around the world where detailed tests of textile products are carried out. The test criteria carried out by the OEKO-TEX® institute are the same all over the world, and certified products can be found more and more commonly in general sales.
SMAT paper is FSC certified (Forest Stewardship Council) – awarded to businesses manufacturing or trading forest products, such as furniture, paper, floor coverings, windows, doors, musical instruments and as well as maple syrup, rubber or Brazil nuts. The scope of certification covers only the first stage of the production chain – extraction of raw materials.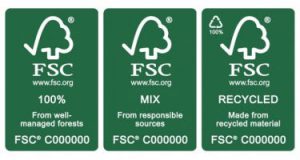 The main criteria of the FSC include aspects such as: protection against illegal use and construction in forest areas, ensuring the right to use the forest resources by indigenous peoples and local communities, protecting the well being and safety of forest workers, protection of rare and endangered species and their habitats, limiting the use of chemical plant protection products (especially pesticides), fertilizers and biological control, prohibition of the use of genetically modified organisms, strict supervision and monitoring of the use of alien species, maintaining or improving the condition of forests of high conservation value, a ban on new plantations at the expense of natural forests and semi-natural .
Human rights are respected during the production of SMAT paper and the paper is produced in Europe.